As a home school mother of over 25 years experience, with 11 children I wanted to share some wisdom for those embarking or thinking of homeschooling their child(ren). Many come out of the school system to re-create the school environment at home, filling up the days with worksheets, tests, book work and rigid curriculum but recreating school at home, is not ideal.
It does not provide the rich, abundant and conscious decision making to embrace the individual needs, aspirations and passions of the child balanced with the needs of the family's individual circumstances. School work is by design created to school en masse, within a classroom environment. Socializing in mixed age groups, and having older children mentor and teach younger children and co-operative sharing of skills is also an important part of the homeschooling experience. Eventually, the idea of grades and year levels becomes no longer relevant, as parents and children transition away from institutionalized thinking and learning.
The end goal of an education is the ability to read, write, do arithmetic, problem solve, have life skills, communicate effectively, work alone and with other people, emotional intelligence and to be spiritually grounded. Working backwards from that goal is to provide the materials and opportunities for the child to grow, in a loving and supported environment.
Due to covid mandates and rules, many families are choosing to keep their children out of the education system and home educate and this has given rise to an enormous amount of choice and opportunities to become part of local homeschooling communities; from weekly co-ops and full day learning centres to regular playground meetups, social events, structured activities, private lessons and group learning.
HOW DOES ONE REGISTER TO HOME SCHOOL
Not everyone registers their child but most people do. The regulations vary per State. Information can be found on https://home-ed.vic.edu.au/home-ed-registration-around-australia/ . This website is a great starting point for information on homeschooling options in Australia.
In Victoria, a few years ago the process of home school registration expanded to include the submission of a learning plan. Prior to this, a parent only had to complete a signed form with a birth certificate of the child to be registered.
This is a once off learning plan and you will not need to submit yearly plans and once approved, at around November each year, an email goes out, asking you to confirm your homeschooling renewal for the following year.
An example of a Grade Prep learning plan for a Victorian student is below; which covers the learning areas and as you can see, there is considerable overlap in learning areas with the activities.
Activities

What activities will your child engage in?

Details

What will your child do to engage in the activities?

Resources and educational materials

What will your child use to engage in the activities?

Learning areas involved

Garden and nature

·         Learning about the plants that we are growing in the vegie patch.

·         Learning about why bees are important for the environment, eco system and how they help to grow our plants.

·         Helping to plant seedlings, watering and watching them grow.

·         Going on nature hikes.

·         Visiting nature sanctuaries.

·         Going to community gardens.

·         Learning how plants grow

 

Vegies patch

Seedlings

Transport

Educational books on plants

 

Sciences

HPE

Learning about the different languages in the world

 

·         Talking about different languages.

·         Learning to count in another language.

·         Learning to sing a song in another language.

·         Going to a Japanese festival.

·         Helping to cook food from different cultures.

Educational books on the world, languages, and recipe books.

Videos of "how to sing songs in another language"

 

Languages

HSS

Learning maths

·         Having conversations about maths and answering questions.

·         Looking at flash cards and answering the questions.

·         Helping to cook a recipe and exploring the ways we use maths to measure the ingredients.

·         When shopping, having conversations about how much would it cost "if we bought 3 of those".

·         Learning about money as a tool to explore the different ways maths is used to measure value and having conversations about what you can buy with that money.

·         Using a stop watch to measure how fast he can run.

 

 

Flash cards

Recipe book

Home kitchen equipment

Phone – to use as a stop watch

 

English

Mathematics

HPE

·         Using paints to draw a picture.

·         Colouring in letters, words or animals.

·         Cutting and pasting words to make to make a sentence (using an example so he knows where each word goes) then colouring in with his choice of medium.

·         Making a Paper Mache sculptures.

·         Learning about the different mediums that historical artists used.

·         Learning about the current technologies used in making cartoons and digital art. E.g. watching a video

·         Exploring the different mediums through play e.g. having an art space set up at all times to explore and play with.

 

Paper, art supplies e.g. pencils, paint

Printer

Computer

paper mache

Child scissors

 

English

The arts

HSS

ICTSDT

Learning letters

·         Having an alphabet on the fridge for him to point and interact with.

·         Learning about his favourite things that start with each letter.

·         Using flashcards to learn letters and their sounds.

·         Colouring in letters and sentences.

·         Putting labels on objects in the house.

·         Having books read to him

·         Looking at signs in the neighbourhood and identifying the letters or words.

 

 

Large alphabet poster.

Flash cards

Print-outs

Books

 

English

 

Doing science experiments

·         Doing a baking soda and vinegar volcano experiment.

·         Making slime.

·         Putting eggs in vinegar.

·         Looking on the internet for ideas we are able to do with everyday materials and choosing which one we will do.

 

Baking soda

vinegar

Slime materials

Eggs

Computer – to conduct research on science experiments

Resources used in the experiments

Sciences

ICTSDT
A plan is simply that; a plan.
It is only necessary to submit one learning plan per child to register with the VRQA and if you decide to deviate or change the plan, that is entirely up to you.
You do not need to send a revised plan back to the VRQA.
UNPRECEDENTED REGISTRATIONS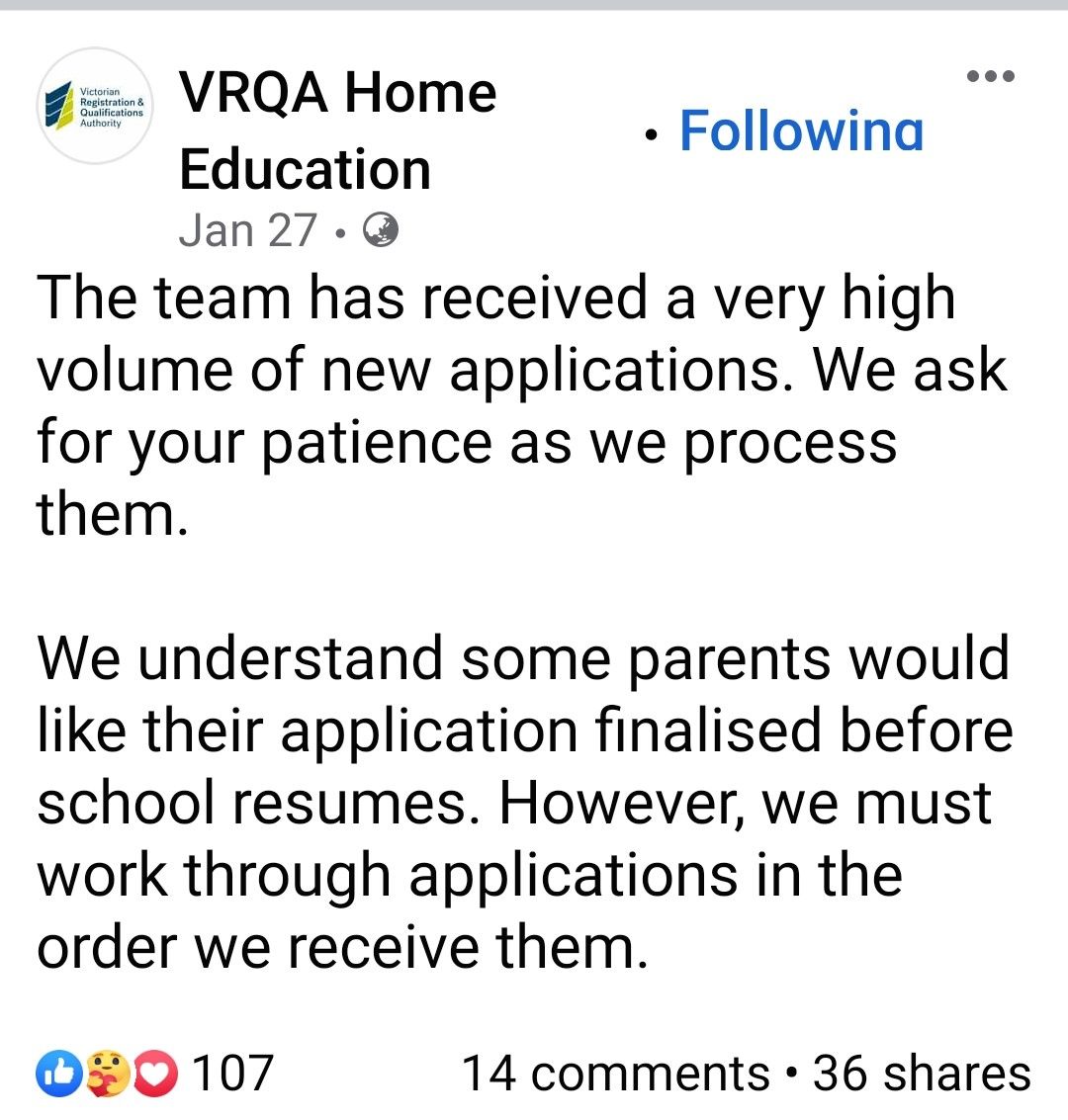 In 2020, the VRQA were 9 months late on home education reviews and with unprecedented demand, it's fairly certain that both registration and reviews will also be delayed. This however, does not necessarily mean that you need to wait till approved in order to home school.
The VRQA's response to the question of approval is "if you are continuing to home school children already registered for home schooling, by all means, continue.
If children are currently enrolled at a registered school, they must remain enrolled until your application is decided. Given the school year resumes next week, you must keep the school principal informed if they won't be attending.
While we assess your application, the law says children aged 6–17 years must remain enrolled in school.
If your child is unable to attend school due to illness, stress, bullying, or other difficulties, they can be excused by the school principal, but must remain enrolled until your application is decided. In this situation, please speak to your child's principal. With your consent, the principal is welcome to contact the VRQA if they have any questions."
Generally principals will exempt a child from school attendance, and if necessary a parent can provide a medical certificate. This is really for those parents who are on the radar due to being enrolled in a public school.
To choose to attend a private school or withdraw from a private school, no one is checking up on you. Alternatively, parents who are awaiting approval, are using stress or immune-compromised as a reason for keeping their children out of school, or writing statutory declarations to that effect in lieu of a medical certificate which does not need to give a reason for absence but simply state "unable to attend school" or a claim of a positive RA test will also be enough.
Parents who have never enrolled their children at a public school, are able to easily transition to homeschooling without any interference, as they are not being counted for funding by any particular school.
HOME SCHOOL REVIEWS IN VICTORIA
Every year, the VRQA chooses 10% of the homeschooling pool to review and if you have been reviewed one year, you will not be put back in the random pool for selection the following year. If you are chosen to be reviewed, you select the child that you want to talk about and you can choose from desktop, phone call or home visit review. https://home-ed.vic.edu.au/reviews-how-to/ has information about it. It's not meant to be difficult. You are simply meant to demonstrate that you have covered the key learning areas.
One thing that parents need to understand is that the VRQA registration is not about outcomes but simply ensuring the learning areas are covered.  
Registration and reviews vary per State. Victoria has arguably the least onerous rules, and in other States, parents may choose to avoid engaging with the system altogether due to the effort required for compliance. To find out more, research and call the relevant agencies and talk to local homeschooling parents.
CONSCIOUS HOME SCHOOLING
There are many models of homeschooling, https://thebestschools.org/magazine/homeschool-style-right/ but if you are moving out of the traditional school environment, the best thing to do, is de-schooling. It may seem like you are going to "fall behind" but these emotions and expectations are exactly what you need to let go of.
Go to the playgrounds to look for home schoolers in your area, join Facebook and telegram groups, network with home schoolers that you meet, look on homeschooling directories and reach out and find your tribe. Home education is not the same as recreating the school environment in the home.
Conscious homeschooling is taking up the opportunities that are presented to you, taking into consideration the unique needs of the child and your family circumstances and finding a pathway that works. Especially in uncertain times, it's important to be flexible and there are so many options available to you. There is not necessarily any right or wrong, there is no failing or falling behind when you embrace the abundance of opportunities.
Homeschooling does not have to be expensive. There are many places you can go to for free, many free learning resources online, and the simplest methods of pen/paper are the best. Visiting the rock pools on the beach, going shopping, gardening, visiting museums, Scienceworks, cooking, libraries, etc. See https://uncensoredwisdom.com/vaccine-exemptions-and-other/ for ways around any restrictions if you need access to vaxxed only areas.
Introducing calculators and computers too early is hindering true learning, as a child instead of assimilating and mapping information into their brain, learns to put this, in and out of a computer. It was one of the big mistakes, we made when we embraced all the online learning platforms two decades ago and through our experience learnt that the old fashioned methods of handwriting and drawing for memory, learning, creativity, etc had been with us for thousands of years and typing into a computer answers or notes, simply did not cut it. Imagine asking a child to spell a word and they are unable to do it because they are used to a computer automatically generating the word for them. This is what is happening with modern learning.
The skill of handwriting also improves hand and eye co-ordination, important for so many things.
Other methods like oral spelling exercises/tests, mental arithmetic orally, dictation, reading out aloud, pronunciation exercises, problem solving and spending a lot of time simply talking to one's child, cost nothing and have profound learning benefits. It is important to remember that worksheets given at school are done because there is a large class to be managed and are time fillers and it is very easy for a child to cheat and guess the answers on worksheets without ever understanding the concepts. Focusing on learning outcomes and mastery of a concept is far better than endless reams of never ending worksheets.
Learning can take place in many settings using games, or things found in nature. Eg counting shells or stones or bringing board games to the park to enjoy with friends.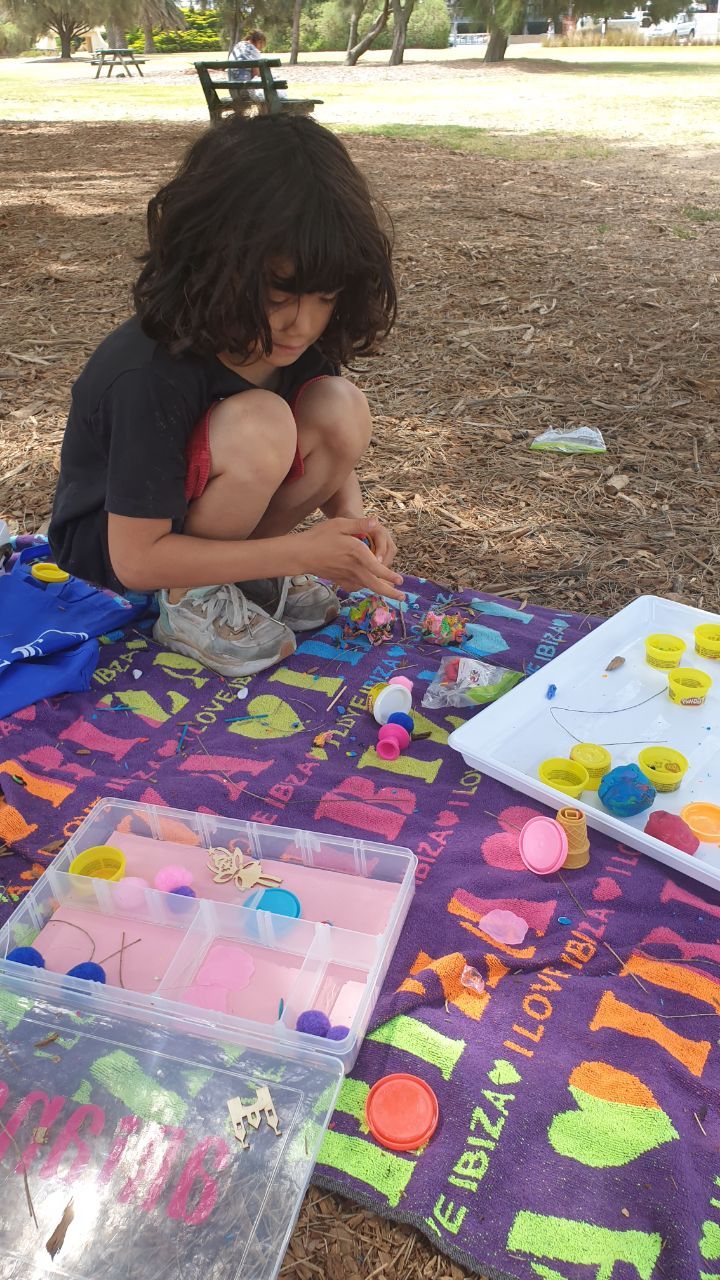 There are so many ideas and opportunities to explore and in Australia, due to the huge numbers homeschooling there has also opened opportunities for local families to connect and do weekly learning co-ops or group activities. Groups can be found on Facebook or telegram or through the https://home-ed.vic.edu.au/ website or on https://www.hea.edu.au/
Due to the politicization of covid19, homeschooling communities too have become divided. There are underground and exclusive groups that entirely against mandates and vaccinations which may be harder to find but they do exist. It may just take more effort to find them and personal networking and there is often a vetting process for acceptance.
HIRING PRIVATE TUTORS AND AFTER SCHOOL ACTIVITIES
Over the years, our family has used a variety of services to enrich the children's educational experience. From hiring a private tutor to teach sewing, to piano, clarinet, knitting lessons to making use of community centre short courses, library activities, after school activities such as tennis, dance classes, ice-skating, art classes, swimming and singing classes. Activities were chosen on the interests of the child but also availability.
I also organized group activity days to structured workshops at the Botanic Gardens, Serendip Sanctuary and attended group events organized by other homeschool parents. Adventure Park, trampoline parks, Funfields were also great days out.
We also did many day trips to the many attractions which included wildlife parks, zoos, historic venues such as Ripponlea, Sovereign Hill, the paddle boats in Echuca, NGV, musuems, Scienceworks, beaches, etc.
As a family, my children enjoyed bike riding on bike tracks and in the forest, along the beach, and scootering and rollerblading at the skate park. We would visit the many playgrounds across Victoria and go camping, either on our own or with other homeschoolers.
We made the best of the opportunities near to us, and over the years did a tree change, sea change and acreage change which included raising chickens and having sheep and an alpaca. We learnt about animal husbandry, composting, gardening and also the harsh realities of bush fires, and death of animals. Now living in the inner suburbs near the beach, we make the most of the activities and environment nearby and enjoy a very active social life.
The opportunities are endless and homeschool families may even start their own side hustle business selling at local markets or online and teenagers often get the opportunity to work in family businesses or local jobs. You are only limited by your imagination at the activities and learning that you can be part of or organize yourself.
ALTERNATIVE LEARNING CENTRES
Understandably some families still need the structure of a school setting due to work. The options are currently underground learning centres headed by former teachers in their homes and the cost is roughly $50 per day per child, in a group setting of around 10.

Underground learning centres in private homes are found by word of mouth.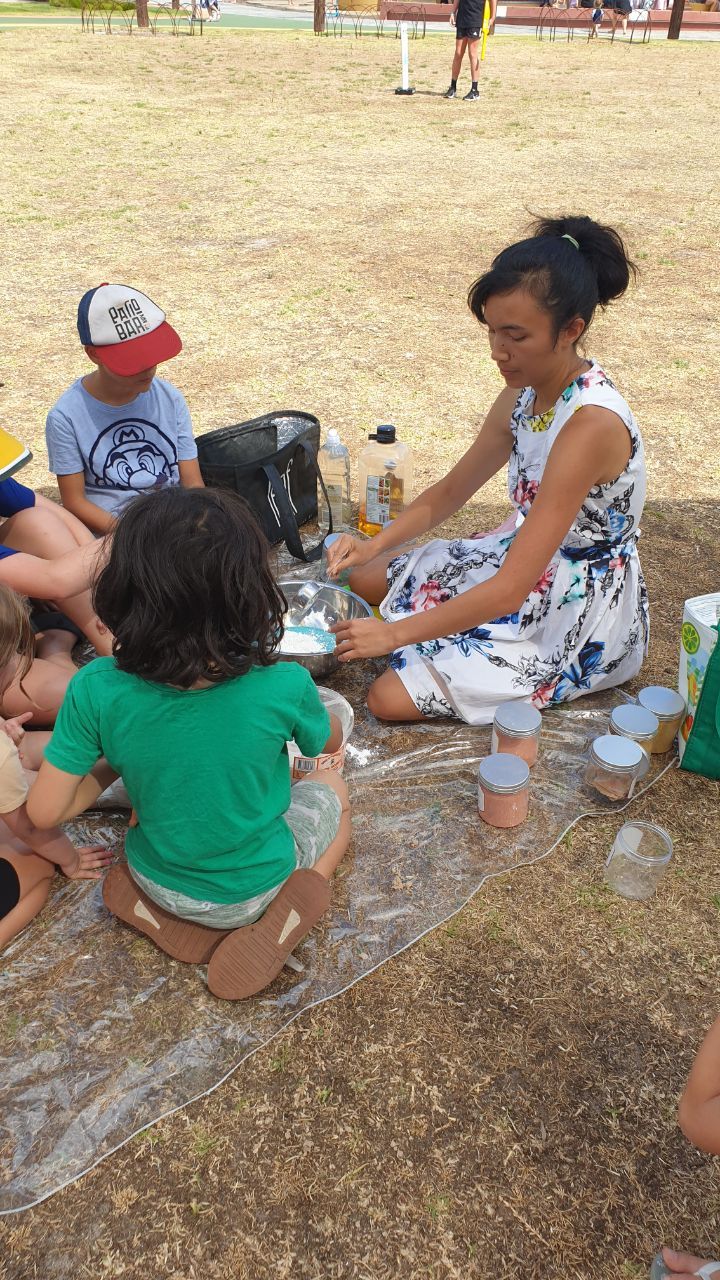 PATHWAYS TO HIGHER EDUCATION AND WORK
For many the idea that you can enter higher education or the workplace without doing a high school certificate is so foreign, it may seem second rate or not possible. Let me tell you that it is not. I have a child that completed Commerce/Law with honours without ever doing a HSC and children who have a vast number of qualifications and skills.
If you do however want to pursue the traditional pathway of HSC to University but remain at home to study, then https://www.vsv.vic.edu.au/ offer a pathway, where students who are currently registered for home schooling with the VRQA for 12 months or more, and have made a decision to return to a government registered school for their senior years (Year 10, Year 11 or Year 12), can apply to enrol directly into a Year 10 or VCE program with VSV in 2022. TAFE Colleges and private and public schools will also accept home schooled students to general education programs.
If you want a non-traditional route, completing a certificate 3, certificate 4 or diploma is another pathway either directly to work or to higher education. Depending on the institution, it may be possible to enrol before your child turns 17 provided you complete an exemption from school form. https://www2.education.vic.gov.au/pal/exemption-school-attendance-and-enrolment/resources .
Open Universities are also allowing home schooled children enrol in subjects and use the results to enter into course work. Direct entry to Universities depend on the institution and may involve sitting a test or entry via mature age or using TAFE results to get in.  There are many alternative pathways to University if you do not want to do year 12.
One little known fact is that in Victoria, is that Skills First prioritizes training for young people (under 20), Apprenticeships and Foundation Skills, and otherwise requires students do progressively higher qualifications to be eligible, which means that you may be able to complete several certificate 3 or 4 qualifications.
See the rules, https://www.skills.vic.gov.au/s/how-to-check-your-eligibility
This has meant that my 22 year old daughter currently holds, a Certificate 3 in Hairdressing, Certificate 3 in Early Childhood Education, Certificate 4 in Education Support and Certificate 4 in Accounting and Book keeping and is currently studying a Diploma in Accounting. She is also fashion designer, can sew bridal dresses, make cakes professionally and is an amazing cook. The endless opportunities that home education provides is that options to higher education are only as limited as your imagination. There are many excellent private colleges, which we have found to be generally better than government funded TAFE colleges and the course work often includes onsite training or work placement which is advantageous to be able to secure employment thereafter.
The benefit of completing certificates instead of going directly to University is that once you have completed a higher qualification, you are not eligible for a fully funded place at a course of lower level. The certificates gained often expand the opportunities for paid work and work experience becomes invaluable for future employment. In themselves, work experience is a wonderful learning experience and provides a reality check before investing in 3-5 years of higher education study.
Apprenticeships are also another pathway students may progress to and whenever a TAFE college says there will be a test to get in, the test is really easy and even if a student does not do well, all that means is that they are given extra support for literacy or maths to do their course.
CURRICULUM
A final word on curriculum is that learning is not linear. It is complex and intertwined and each child learns differently. Finding materials is not difficult and I haven't covered this as there are so many websites and online systems, books, worksheets, etc. available.
There is really no right or wrong answer when you are open to change. Nothing wasted, nothing lost. Failure is a springboard for future success and mistakes are learning experiences. Every curriculum or system will try and sell you, the path to eduational nirvana but the truth is that learning comes from within the child, birthed off curiousity and a desire to learn.
Fostering confidence, providing opportunities, providing guidance when needed, giving a child space to learn and to fail and learn from mistakes, allowing them to take autonomy over their own learning and getting away from the concepts of grading and year levels, opens up a whole world that far exceeds anything the minimum requirements of curriculum based learning affords. By all means use it as a framework or stake to grow on, especially in the early years it can be helpful to tick off various outcomes but as children mature, learning is much more fluid, complex and intertwined. In some great mystery, children are always learning, even when there is no formal teaching.
Orally delivered, face to face and one on one learning with immediate feedback loops and questions, demonstrations, combined with or without handwritten notes is in my opinion the most powerful learning tool to pass knowledge on.
If you have any questions, let me know. I hope it wasn't too ranty.
Final words
The main reason that I chose to homeschool over 25 years ago was that I had completed my University degree in Statistics and English Literature and having 4 children at the time, I figured that I would hardly see them if I went off to work and sent them to school.
Family relationships was the main reason that I chose to home educate and everything else followed that. Whether you homeschool for a year or the entire school years, enjoy getting to know your children, watching them grow up together and spending time together. The days are precious.