We were duped to believe that Novak Djokovic's deportation had anything to do with vaccination or freedoms. It was pure revenge by mining interests, to put Djovokic in his place for his support of the protests against a $2.4 billion dollar lithium mine in Serbia. Lithium is the new gold, in an industry worth trillions; never mind that it is incredibly destructive to the environment and life.
In early December 2021, Novak Djokovic posted support for protests in Serbia against laws that would allow foreign companies, like Rio Tinto to take advantage of local resources. The demonstrators were protesting against Rio Tinto's Jadar lithium project and China's Zijin Mining's recently opened Cukaru Peki copper and gold mine, which would pollute land and water in the Balkan nation.
Holding banners that read: "Stop investors, save nature, we are not giving up on nature in Serbia," and chanting "Rio Tinto get away from the Drina river"
https://www.mining.com/thousands-protest-against-rio-tintos-lithium-project-in-serbia/
Djokovic posted with an image of the protest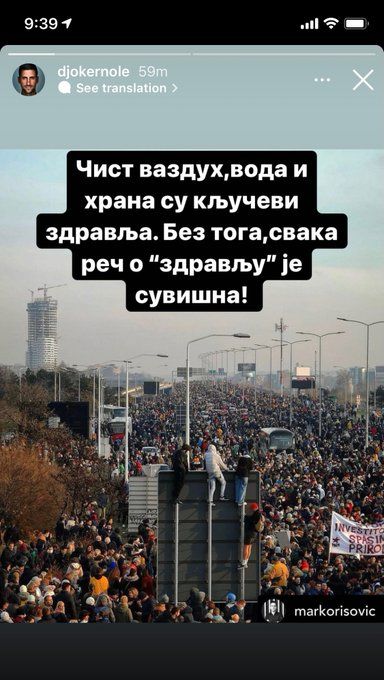 "Clean air, water & food are the keys to health. Without it, every word about health is redundant. Nature is our mother. We spend more time in nature. With her and in her, our lives are richer."
He has never made any anti-vaccination post. The case against him for "being a risk to public order" rested on a media article in 2020, citing Djovokic's views on a vaccine that had not been approved. The minister said, the risk of "civil unrest" because Novak Djovokic was "a person of influence and status" that would stir up antivaccination sentiment.
Imagine if instead of crucifying him on the basis of him not taking the vaccination, and entering Australia on a medical exemption approved by two Australian medical panels, the Minister had said, "We are deporting Djovokic because we have lost millions of dollars in share value because he encouraged Serbian protesters to stand up against our mining interests in Serbia and with an initial investment of 2.4 billion dollars; we expect to make a kaazillion dollars from this."
Would the public have been as outraged to demand his deportation?
Rio Tinto is registered in Australia. Is it a coincidence that Australian Prime Minister's chief of staff, John Kunkel also happened to work for Rio Tinto as chief advisor to the Australian government and that the share price was in decline due to the Serbian mining protests and the collapse of Evergrande?
The video below is about Rio Tinto's Lithium Mine and the flow of money.
https://www.youtube.com/watch?v=hhtajMeswMc
They just had to label him "anti-vax" and run a narrative of "it's not fair", "who does he think he is", "we all got vaxxed, why doesn't he just follow the rules"  that was enough to fuel public outrage and set off the counter narrative of anti-vax, freedoms, human rights, bodily autonomy, etc.
Then then failing to get a win there, the Minister used his personal powers to deport him for thought crimes, and this set off a whole other counter narrative.
How easy it is to control the public and the media; both mainstream and the alternative media?
To run with a narrative, which directs the counter narrative that distracts us all, while they plunder, pollute and kill. Classic divide and conquer tactics but so far, in Serbia the lithium mine has not been approved. The Serbians are holding strong.
As Australians we must become informed citizens. We must hold the line and push back not just for freedoms but for a better world. We hold great responsibility as being central to the economy of the world and with great power comes great responsibility.